After a quarter century of elective Orthopaedic Surgery here in New Hampshire, it is with both sadness and excitement that I announce that I am passing that mantle to Dr. Jeffrey Kauffman. I choose these words carefully as I want to be clear that I will not be leaving the area or my medical practice.
The reasons for my decision are many. As many of you know, I have continued to write, work with local sports teams, and do research in my years of private practice. Obviously, there is never enough time, and with this new arrangement, I hope to better fulfill that aspect of my professional life. Perhaps the biggest push toward this new arrangement, however, is the interest of Jeff Kauffman. Dr. Kauffman is a top flight orthopaedic / sports medicine doctor and surgeon who is superbly trained and has years of experience. lt does not hurt that he is also a genuinely nice guy, cyclist, skier, hiker and runner.
Dr. Kauffman and I will be working closely both in the OR and the clinic. Dr. Kauffman will be assuming the role of primary surgeon and will also be the primary doctor you will see immediately post-op. All of your insurance information will reflect this. While I will be assisting Dr. Kauffman in the OR for some cases, these days will be limited and coordinated with my office. Dr. Kauffman and I will be staying abreast of all operative patients; however, if you would like me to be directly involved we will do our best to accommodate.
It is our goal to bring you the benefit of over forty years of Orthopaedic experience. We will do our best to keep things as smooth as possible. Appointments for Drs. O'Neill and Kauffman can be made using the same contact information.
Very Truly Yours,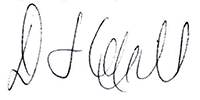 Daniel F. O'Neill, M.D., Ed.D.
SURGICAL INFORMATION/HANDOUTS
Affiliations & Community Partners