Coaching Mental Excellence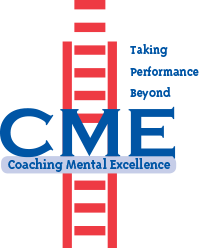 Coaching Mental Excellence is the sister company of Coaching Medical Excellence.
Coaching Mental Excellence cares for all athletes, particularly those returning from injury. The fact that the mind has to be rehabilitated along with the body is well known, but not necessarily attended to appropriately. It is the role of the sport psychologist to address this connection and to help the athlete work through the mental problems associtated with returning to sports that can actually pose additional physical risks. Coaching Mental Excellence appreciated the mental aspects of recovery, but also assesses the physical aspects. Our team provides that athlete with both the mental and physical tools that allow him or her to truly come back from injury stronger than ever.
The following case studies provide a composite sketch of three types of clients.
D.F. is a professional basketball player who has had a solid career but always as the seventh or eighth player off the bench. An Anterior Cruciate Ligament injury put him out for the entire last season. Although the training staff has been great, he is getting he feeling the organization might not believe he will come back to being a productive player. D.F needs not only psychological support, but physical support as well, something Coachnig Mental Excellence is uniquely qualified to provide.
B.G. is a 25 year old ski racer who tore ligaments in his knee last winter. Despite recuperating well from surgery and having what his doctor says is a "good, stable knee," B.G still does not feel confident enough to lay out turns at high speed. B.G. probably has a "good" knee, but might not be fully rehabilitated. His mental trepidation may be perfectly reasonable. At Coaching Mental Excellence, we would assess his mental and physical state and then put together a program that truly connects his mind with his body.
A.Z. has sustained an injury every year for the past three years of her basketball career and she is only sixteen years old. At Coaching Mental Excellence, we would attempt to get a clear picture of the effort and off season activities that A.Z. performs. We would also have to decide if the injuries are due to poor physical training, poor mental training, or just bad luck.
W.W is a dedicated football player who hopes to play in college. He has experimented with performance enhancing drugs and is willing to do just about anything to improve. He is so amped before a game that he has actually been thrown out for fighting, and even had an altercation with one of his teammates. At Coaching Mental Excellence, we would put W.W. on a proper plan for success – one that does not include short cuts like drugs, but does include nutritional support, coaching, and psychological tools. A high school athlete has such a huge untapped potential that with proper coaching in all aspects of their sport that will see significant gains. Coaching Mental Excellence is the place to start for safe, legal performance improvement.
Affiliations & Community Partners