Coaching Medical Excellence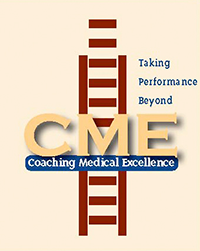 Coaching Medical Excellence provides a completely confidential experience for doctors, athletes, coaches, or other professionals who are struggling with performance issues – due to either their own limitations or those around them. Here are some ways Coaching Medical Excellence can help your solo or group practice:
Provide individualized office and Operation Room visits to develop the scaffolding for a new and improved practice by formulating a plan for improved personal and team performance.
Present lecture and workshops to Medical and Surgical groups on the nexus of sports medicine and sport psychology.


Consult with group practices regarding how they can use simple principles of Sport Psychology in their everyday work with patients.


Consult with colleagues who are disrupting the practice due to anger, confidence, or other performance blocks.


The following case studies provide a composite sketch of three types of clients.



S.B. is an orthopaedic surgeon who accepted a job at a small rural hospital upon completing her fellowship. The two surgeons in the community have been there for over 15years and established a strong general orthopaedic practice. While knowing she would be doing everything, S.B. hoped to launch an upper extremity referral service due to her interests and the needs of the region. After six months of practice, S.B. was struggling on a number of fronts:




She was the "new kid on the block."

She did things that seemed contrary to the "way things have always been done."

She was the first female surgeon in this hospital.

She was, by nature, shy and accommodating.

She had just completed her training in a top hand surgery fellowship with the latest technology and experienced assistants.

She never learned how to market her skills.



S.B. is the kind of surgeon you want in a community, yet her chance of success here is small. She needs coaching but, most importantly, needs to also coach her staff. She is coming from a program where a successful system was in place to a hospital with no experience in advanced upper extremity surgery. S.B. and her staff are prime candidate for the type of coaching CME can provide.



As the population has increased, so has the business at City Pediatrics. What was once a practice of three doctors is now up to fifteen doctors plus ancillary services including a lab and a physical therapy office. The staff has grown to over one hundred people causing the personalized service that was the hallmark of the group (since their days in a clapboard house) to be at risk. In-fighting regarding what direction to take the practice in has added to the impending problem. This group needs Coaching Medical Excellence to consult with the staff to help understand where each faction is going and how they can work together as a team to achieve those goals as well as provide the best services for their patients.




L.J. is an aggressive, gifted surgeon who is used to getting what he wants and is not afraid to demand it. As his reputation has grown, he has attracted though cases that have increased his stress level. This has led to some explosions in the OR, in the office, and even at home. The stress has become a vicious cycle. The head nurse in the OR and the Chief of Anesthesia have spoken with his senior partner regarding his outbursts. No one wants to work with him, and two nurses have gone so far as to file formal complaints. L.J. is a good doctor and a major money maker for this hospital, but his behavior is becoming a serious performance issue and is bound to start affecting his clinical results. He does not need a psychologist, but rather someone to help him adjust his practice to decrease his level of stress and improve him performance.
Affiliations & Community Partners